My Musical History: How I Became a Singer By Jim Valley
As a young boy I always felt a magical love toward music and dance. My parents and both grandmothers played piano that added so much joy and life to our family gatherings.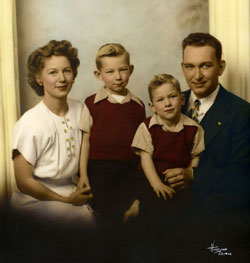 We would sing happy songs together like, "We Ain't Got a Barrel of Money" on road trips, and time would fly. It just became very natural to sing alone and with others.
I remember the first time I saw and was able to hold a real musical instrument—a French horn—that one of my cousins played in a high school marching band.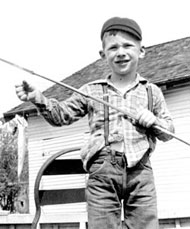 At that point I knew I wanted more than anything in the whole world to be able to make music. In the fourth grade, 1953, I learned the trumpet and loved to play so much that whenever I got into trouble, my folks wouldn't allow me to practice that day. (Little did they know that I stuffed socks into my trumpet and quietly played anyway!)

In 1955, when I entered seventh grade, ROCK AND ROLL was born and all of my pals loved listening and dancing to this new happy, spirited music!
I would run home from school to hear the newest top twenty hits on the radio: Rock Around the Clock, Why do Fools Fall in Love, Tutti-frutti!! There were teenage dance contests that my dance partner and I would usually win, on TV even!
In the Spring of 1958, when I was in the ninth grade, three girls in choir taught me to play the four essential chords of rock 'n roll: C, A minor, F and G. With those four chords you could play a hundred songs . . . so I wrote a simple song for one of the girls.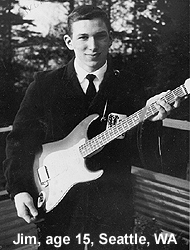 Her name was Cassie, but the song was called, Cassandra. My next-door neighbor, who was a year ahead of me and in high school, thought it was really cool, and suggested I form a group. He knew a drummer, a saxophonist, and a guy who had a guitar in his home. He couldn't play it or tune it but he had one.
Well, this was the birth of my first rock 'n roll band, Vince Valley and the Viceroys. The drummer, Greg Thompson, thought Vince sounded better than Jim. After our first public appearance, playing intermission at a Jr. High School record dance, I realized our band definitely needed an electric guitar. Having a summer job at my dad's laundry, I bought one and became "the guitar player" in the band. In the spring of 1959, the Viceroys were hired for their first school dance earning $70!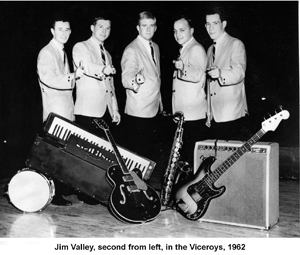 From the time I was a junior in High School, 1960, we were booked almost every weekend playing dances around the Seattle area. We recorded an original instrumental song called "Granny's Pad" in 1963, which became a huge hit in Seattle and we toured the Northwest, sometimes backing national names like Little Stevie Wonder at concerts.
In 1964 we played a dance in Seaside Oregon, where we were supposed to attract 800 kids.... only 80 showed up! The reason was there was a new group from Portland, called Paul Revere and the Raiders, that were the hot group (the cat's meow, the bee's knees) as far as the local kids were concerned. Later that year, both bands played at a historical dance hall near Seattle called, The Spanish Castle. When I saw them perform, my eyes spun around like Mr. Toad, and I told Paul if he ever needed a guitar player, I was his man!
In 1965 I joined another band, Don & The Goodtimes,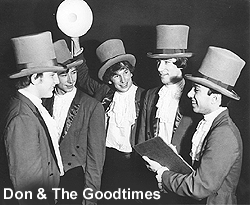 out of Portland, Oregon, who were touted to be "wilder and crazier" than Paul Revere and the Raiders! We wore top hats and tails and had quite an amazing stage presence and show. We just played good-time, fun rock and roll and the audiences love it. I wrote a song for the Goodtimes titled, "Little Sally Tease". It became a huge Northwest hit and helped us become the number one draw in the area.
One year later in 1966, Paul Revere called to ask me to join the Raiders.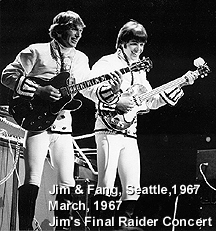 At first I declined, but after thinking it through and discussing it with the other "Goodtimes", I decided to go for it. I became Harpo and toured the US to the adoration of thousands of screaming fans.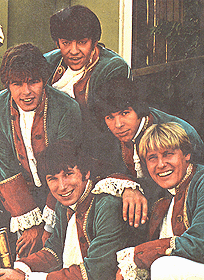 We were featured on a Dick Clark TV show called "Where the Action Is" and recorded for Columbia records with hits records such as "Kicks", "Hungry" and later "Indian Reservation".
It was during this time that I had the dream of creating meaningful music and story songs for younger children that would help inspire them to feel comfortable and joyful in their lives. This would take years to come to fruition, but it was all worth it when in 1980, Rainbow Planet was born.
Click Here for more about Jim and Paul Revere and the Raiders.